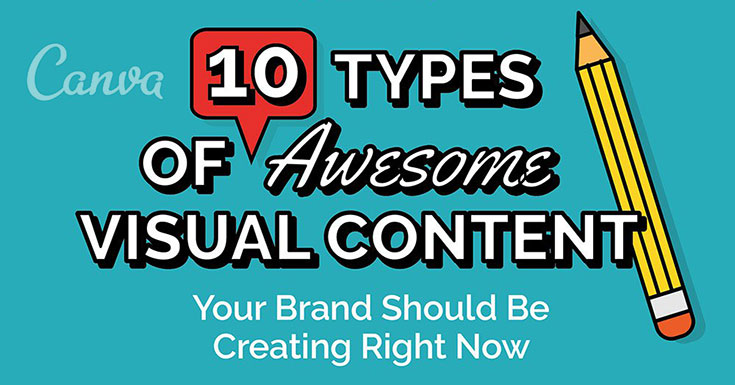 Need more visual content?
My guess is, you do! As a designer, even I struggle with creating enough visual content.
If you're marketing on social media, you know why visual content is important:
→ To get your blog posts shared
→ To get your Facebook posts noticed
→ To double your Twitter engagement
→ To send massive web traffic from Pinterest
→ And to stand out on your multiple Instagram accounts!
Read on for 10 ideas on what to create, plus links to articles on how to create visual content for your social media and website.
10 Visual Content Types You Need Right Now
Producing regular content is key for maintaining a successful brand.
And to stand out among all the other brands churning out content – you need awesome visual content!
If you're a bit stuck on what to create, check out these 10 types of awesome visual content from Canva.
Which could you include in your brand strategy?
1 | Eye-Catching Photographs
Try these ideas:
Your office.
Your team members.
Behind the scenes at work.
Sneak previews of upcoming products.
Customers using your product.
All of the above work great on Facebook, Instagram, Twitter and LinkedIn.
Need to make your photos look better?
2 | Inspiring Quote Cards
People love to share quote pictures that resonate with them. They work on all social channels.
Include some in your blog posts too, where appropriate. They're great to share on Pinterest with a link back to your post!
There are many ways to make your own quote graphics – including Canva.
Find more design app options for your computer or iPhone here:
20+ ways to make quote pictures on desktop.
20+ ways to add text to photos on iPhone.
To find all the awesome quotes you'll ever need for social media marketing:
3 | Strong Calls to Action
Your call-to-action is what you ask your reader to do once they've read your copy – which could be a blog post, sales page, email, or opt-in form.
It can be something as simple as calling you for more information, signing up for your mailing list or buying your product. If you don't tell people what to do, they are less likely to do it.
Even if your copy implies they should buy your product, if you don't ask for the sale, you won't make it as often.
So call people to take action!
4 | Branded Images
Your graphics need a consistent look. Also be sure to add your watermark.
Do you even have a brand? While branding incorporates more than the visual, color is what people notice first.
Your brand colors need to reflect your business personality, though.
5 | Interesting Data Visualisations
Consider these as mini-infographics. They're great to sprinkle in your blog posts and share on social media.
You can make these in Canva or Venngage. Find out more under section 10.
6 | Videos
For the last 5 years at least, we hear that "this is the year of video."
And every year, they just grow in popularity!
You'll want to check out these tips to make your Facebook video viral.
And since we're talking visual marketing, be sure you use an eye-catching video thumbnail!
7 | Tips, Tricks and How-To's
People LOVE to pin how-to graphics! It can be a simple tip or a step-by-step collage.
Here's a tip to increase your authority in your niche: Quote yourself!
Create a series of graphics where you give tips, tricks, and how-to's your audience needs to know about your business and what you offer.
Show that you know your stuff! They'll be more confident in buying your product or service.
The fastest way to crank these out is to use a desktop design app. Try it!
8 | Informative Screenshots
Try these:
Share screen shots of your digital product.
Use them in how-to posts or graphics.
Show your results with a screen shot of analytics.
Share a customer testimonial screenshot.
Once again, any and all of these increase customer confidence in what you have to sell.
9 | Thought-Provoking Questions
Questions are essential to keeping your audience engaged and interested in your business – since you are showing interest in them!
Stumped for what to ask?
Or need a way to organize your ideas, and when and where to post them?
Engaging questions and post ideas are at the heart of my Social Media Content Planner.
'Cause if your audience doesn't engage, you're wasting your time making visual content for social media.
Get all the engaging post ideas you need – over 100 each month – including questions to learn more about your audience and how your business can help them.
10 | Infographics
Infographics are shared 3x more than any other type of visual content.
Make your own infographics to easily communicate complex data.
It's easier than you think!
On the post linked below, you'll find a colorful rainbow of an infographic that will answer your questions:
What is an infographic?
Why are infographics popular?
Why use infographics?
How can I create infographics?
Conclusion: Visual Content Types You Need
So there you go – 10 categories, and even more ideas in some categories!
Overwhelmed with ideas?
Get organized with my Social Media Content Planner.
It offers several idea prompts each day of the month, and a way to keep you organized.
It doesn't include generic visuals. It's better for your business if you make your own branded visuals.
But if you need ideas and organization? This is for you!
Or Pin the infographic, and let me know – what type of visual content will you try next?