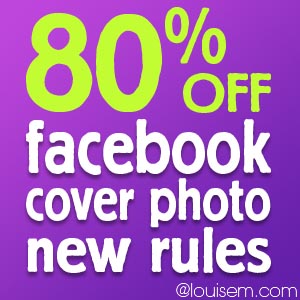 Facebook Cover Photo rules have quietly been relaxed.
In fact, they've taken 80% off! 4 out of 5 rules have been removed.
Facebook confirmed with the website InsideFacebook that this rule changed on March 6, though you wouldn't know unless you happened to visit the Facebook Page Rules web page.
Check out the changes and decide what it means for your Fan Page!
[pinit]
What Are the New Facebook Cover Photo Rules?
These Cover Photo restrictions have been REMOVED, so you can now include:
Price or purchase information
Contact information
Facebook features, such as "Like" or "Share"
Calls to action, such as "Get it now"
However, Facebook Cover Photos are still restricted to 20% text. This change went into effect January 15, 2013 and has NOT been relaxed.
I plan to revise my Cover Photo ASAP to "ask for the Like."
Mari Smith had this done with her new Cover Photo: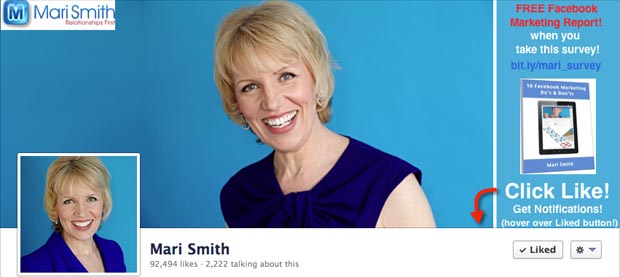 Very clever. She also noted an easy way to psych out the 20% space: use 170 pixel-wide column on the right side of your cover. Note that text in logos also counts towards the 20%, so Facebook could quibble with the logo placement shown above.
To review, the new Facebook Cover photo rules are:
All covers are public. This means that anyone who visits your Page will be able to see your cover. Covers can't be deceptive, misleading, or infringe on anyone else's copyright. You may not encourage people to upload your cover to their personal timelines. Covers may not include images with more than 20% text. source
I applaud the new simplicity. Will you update your Page? What do you think of the new Facebook Cover photo rules?