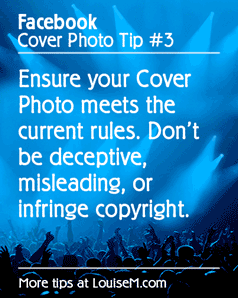 Facebook Cover Photo rules were relaxed last year.
Facebook quietly removed the 20% text rule for Page Cover Photos from its Page Guidelines on Monday, July 1st, 2013.
Just because the guidelines are short and sweet, doesn't mean you can ignore them. Facebook retains the right to remove your page if they catch you skirting the rules. Be sure to stay current.
[pinit]
Still in effect as of February 2014, the updated Facebook Pages Terms read in part:
All covers are public. This means that anyone who visits your Page will be able to see your cover. Covers can't be deceptive, misleading, or infringe on anyone else's copyright. You may not encourage people to upload your cover to their personal timelines. (source, see section III B)
Elsewhere they state that all content on Pages must comply with Facebook's Community Standards. These are simple rules, in keeping with the simplicity of other social media platforms like Twitter and Google+. Perhaps Facebook is paying heed to Page owners' grumbling about difficult rules?
It's a relief not to deal with a text limit in your Fan Page Cover Photo. But don't forget the appeal of visual content! Your eyes first notice color, then layout, then image – then the first few words. Good, simple design always helps you make a great first impression!

DO use a call to action in those few words you include on your new Cover Photo. Check out my new for 2014 Kindle book to create a Cover Photo that best portrays your business, and attracts your target customers!
Know anyone with a Facebook Page? Share the news about the improved Facebook Cover Photo rules!
This post was originally published July 2, 2013, and updated February 18, 2014.