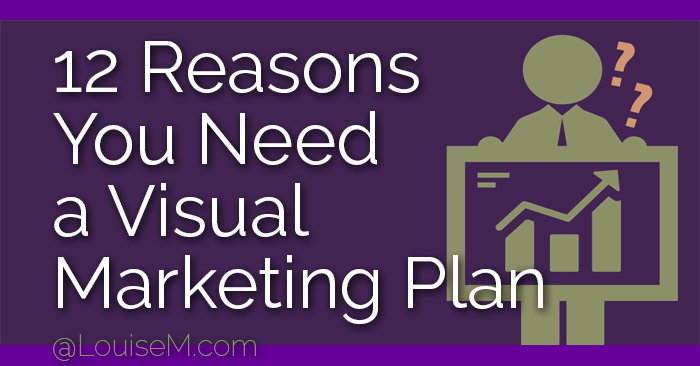 Not sure if you need a visual marketing plan?
Visual content marketing is one of the hottest trends online, and it's showing no signs of slowing down.
Why? We're positively drowning in content! Visual content cuts through the clutter and communicates quickly.
This infographic from Digital Marketing Philippines will explain why you must embrace visual marketing for your business.
12 Reasons You Need a Visual Marketing Plan
Visual content helps grab targeted audiences' attention.
Business owners need to do everything they can to stand out in a steady stream of content!
Visual content can be processed faster by the human brain.
60,000 times faster than the brain can decode text!
Visual content makes up 93% of all human communication.
93% of human communication is practically non-verbal.
Visual content generates more views for your posts.
Up to 94% more views with compelling visuals added.
Visual content that goes viral can bring tons of inbound links.
Be sure to include your logo, page, or website info so viewers know where it came from.
Visual content helps you increase your subscribers and followers.
37% increase in engagement if optimized with compelling visual elements.
Visual content is more understandable.
Your audience can better comprehend your message with appropriate visuals.
Visual content can influence human emotions.
Specific colors cal elicit emotions and even influence purchasing decisions!
Visual content solicits targeted users' action much more effectively.
40% of online users will have a more favorable response when images are included with text.
Visual content in video form is preferred.
85% on U.S. Internet users watch video.
Visual content generates more social engagement.
Use of visual content on Facebook generates 65% more engagement in one month.
Visual content makes targeted online visitors stay longer.
Website visitors stay longer when they're served good visual content.
Impressive stats and studies back this up. I found this one interesting:
A study published in the Newspaper Research Journal Winter 2010 highlighted that text and graphics if used alone may be imperfect forms of communication. Combining visual elements with well-written text can be your ticket for capturing the imagination and attention of your targeted audiences.
That's exactly what I do for my blog visuals, Pinterest pins, and Insta-graphics! And I recommend you try it, too.
Soon you'll be implementing your own visual marketing plan for more visibility, leads, and business!