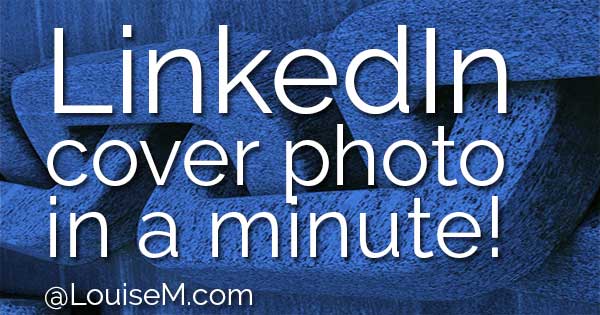 Need a LinkedIn cover photo?
What – you didn't even know there was such a thing?
Yep, LinkedIn is finally getting on board with visual marketing and has added the option of a cover photo to personal profiles.
With a cover photo, your profile looks so much more professional when people visit. And it's so easy – add your branded image from your Twitter header!
LinkedIn Cover Photo Size
LinkedIn suggests a cover image size of 1400 x 425 pixels minimum. If you set up your Twitter header properly, you have a 1500 x 500 pixel image.
If you added type to your Twitter header, go back to your layered file and delete the type. Just use the photo image. It will work perfectly!
(Of course you saved a layered file, right? Please say yes! Always do, so you can go back later and edit.)
Anyway, with all the overlays on the LinkedIn header, I recommend a very simple photo. You can adjust the cropping after you upload, but  wouldn't even worry about it. The cropping will change depending on the size of the browser window the viewer is using. So just keep it simple.

2 Quick Steps to Your New LinkedIn Cover Photo
On LinkedIn, click Edit Profile.
Find your Twitter header and upload.
Admire!
Since it's so easy to add one, why not do it now? Feel free to share the link to your new LinkedIn cover photo below.