Now that you've got your Facebook Fan Page Cover Photo ready, it's time to think about your Custom Tab Images. Facebook Fan Page Tabs are now called Apps, but Facebook calls the thumbnails or icons Custom Tab Images. Who knows why – it's Facebook, we just say OK and go with it ;)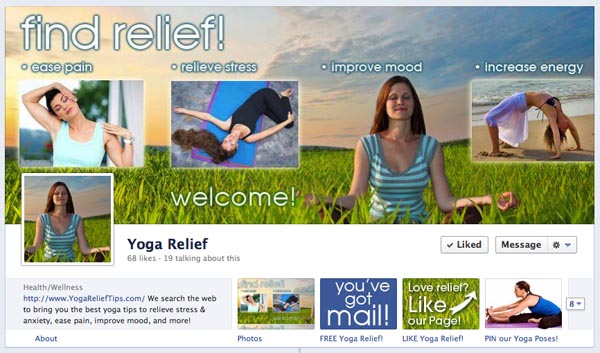 The New Look of Facebook Timeline Fan Pages
Pre-Timeline, the Tabs had mini icons and name listings in the left column. With Timeline, we get larger, customizable images that run in a row beneath most of the Timeline Cover Photo. The Photos App will always hold the first position. Three more Apps are visible – then the viewer has to click the blue arrowhead at right to access more Apps. You can have up to 12 Apps.
The Likes box sits next to Photos by default, but you can reorder these Apps, and I recommend you do. You want to highlight your 3 best Apps with compelling Custom Images. I recommend you move the Like box to the very end! Did you know that anyone can access your "Likes and People Talking About This" stats by clicking that Like box? It's true – try it on your competitors' Fan Pages to see how their engagement is going!
Strategy for the App Thumbnails / Icons / Custom Tab Images:
Create compelling Custom Images to get clicks.
Feature your 3 best Apps with the 3 thumbnails that show in the first row.
Rename the Apps with action words – give a call to action!
Upload your Custom Images.
How to Create Custom Tab Images For Your Facebook Timeline Fan Page
You can't set Custom Images for Photos, Videos, Notes, Likes, and Events. However, if you don't set a Custom Image for your Custom Apps, you'll get an ugly generic icon. So here are the specs for the App Thumbnails: 111 pixels wide by 74 pixels high. I recommend you create your images to the exact size. If Facebook resizes an image to fit, it can get blurry or bitmapped, and look amateurish.
These can be text-based (unlike your Cover Photo!) and many non-designers can make these themselves. Keep your brand colors in mind and add clean, simple text. I recommend going with a strong background color so they stand out from the white page. You can use Calls-to-Action here, so consider making one to ask for the Like!
How to Reorder your Fan Page Apps
To reorder the App icons, click on the arrow at the far right of the row of Apps.
As you hover over an icon, click the pencil icon to bring up the dropdown box headed by "Swap position with:"
Move the icons around by swapping them out until you have your preferred order.
Change the order from time to time to see which Apps get the most engagement!
How to Rename your Fan Page Apps and Change the Images
Click the arrow at the far right of the row of Apps.

Hover over the Image until you see the Edit pencil icon in the upper right corner.
In the dropdown list, choose Edit Settings. The Edit Settings box will pop up (shown at right).
From here you can Remove the App, add a Custom Tab Image, and set a Custom Tab Name.
Start by adding your Call to Action words as the Custom Tab Name, and click Save.
Now click Change above the text box.
In the new window, click Change again and in the popup, upload your 111 x 74 pixel Custom Image.
When you've located the image on your hard drive and clicked Open, it will upload.
Now you can close this window and return to your Page. Click Okay in the Edit Settings box.
Now you have a super looking Facebook Fan Page with Custom Tab Images!

For more graphic designer secrets on making your Facebook Fan Page visually engage your fans, you need my new ebook! Create your Facebook Timeline Fan Page to Look Great and Engage Fans: PDF edition available on my website through PayPal. Kindle Edition
available on Amazon. Updated and expanded May 30, 2012. Buy Now!
Share and Enjoy