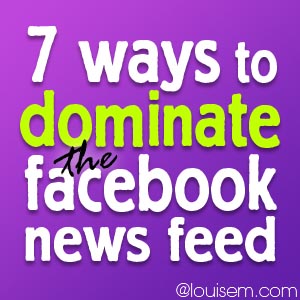 Using Facebook Page Photos on your Fan Page?
The latest news feed changes make it more critical than ever.
Images will appear much larger in the news feed, rendering text updates nearly invisible.
In addition, Facebook users can choose to look at a photos-only news feed! That, plus the fact that users can tune out brand messages by viewing an All Friends feed, make it imperative that your Fan Page is creating compelling visual content. The only way Fan Page content will get into a user's All Friends feed is if their friends share content from that Page.
Here's how to seize that opportunity. [pinit]
7 Ways to Use Facebook Page Photos to Dominate the News Feed!
Facebook Page photos can appear in the "Following" feed (posts from brands and public figures that a user follows), and also in the Photos feed, for double exposure! Be sure to note the opportunities for your Page to break into the All Friends feed, too. Capitalize on them!
Here are 7 image ideas to maximize visibility. Click on the linked text to get how-to's!
1. Use easy picture quote makers to create text as images.
2. Post links on Facebook with images for better visibility than text with a link preview.
3. Size photos for the new, high-resolution feed stories on both web and mobile by creating 600×600 pixel images (minimum 200×200 px). Keep text brief, as it will appear on top of your image (shown below).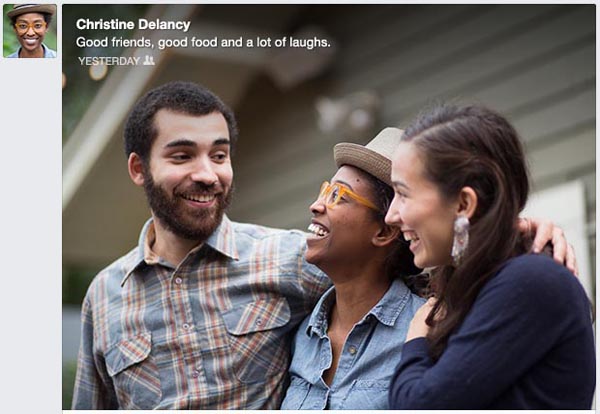 4. Ensure you have the best profile picture for your Fan Page.
5. Create a great cover photo – it's more important than ever! When a new Fan Likes your Page, the middle swath of your cover photo will appear, along with your profile picture, in the news feeds of their friends (shown below). Your Page Name and Likes will be automatically generated to overlay the cover swath, so make sure you're in compliance with the cover photo text restrictions.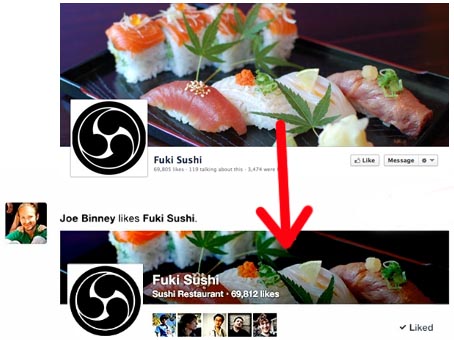 6. Place Pages should encourage Fans to check in! When Fans do, a map will appear in the news feeds of their friends (shown below).


7. Optimize your Pinterest pictures, and be sure to link Facebook and Pinterest to take advantage of the greater visibility of third-party apps in the news feed (shown below).


Post Compelling Content, and Encourage Fans to Share
Facebook's new design caters to content that has been shared frequently within a Facebook user's network. Top shared articles will be featured in a manner similar to LinkedIn Today (shown below). Of course, you'll want to promote your blog posts on Facebook in hopes of getting such viral reach – but with the amount of content shared on Facebook each second, you'll need to deliver outstanding value and interest.

Encouraging Shares, check-ins, and new Likes is even more important now, as they'll get your Page in front of more Facebook users – even the ones who are looking at their All Friends feed.
How Will YOU Use Facebook Page Photos?
Have these ideas given you some inspiration? Please share with others who may be baffled by the latest Facebook changes. And let me know in the comments what you're committing to do to create more and better Facebook Page photos!