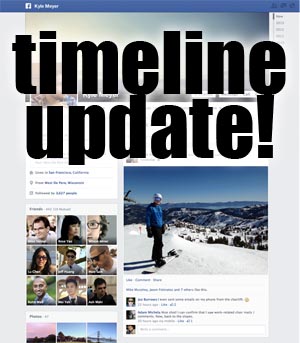 A Timeline update, already?
Facebook Timeline has only been out for a year, and it's getting a major overhaul – rolling out now.
The new Facebook Timeline will eliminate the much-despised double column format. The new, cleaner design features your posts in a wider column on the right, with photos, music and other recent activity on the left.
Click on the image at right, or here –> to see a large Timeline without my type overlay!
Now – what's a Fan Page admin to do?!?
[pinit]
What Does the New Facebook Timeline Mean for Fan Pages?
Wow – wish I knew. I've heard that the Timeline update is only for personal pages, but I wonder if it's just a matter of time.
The personal profiles, as well as the new news feed design, will feature images in a landscape format, whereas the double-column Timeline on Fan Pages features square images.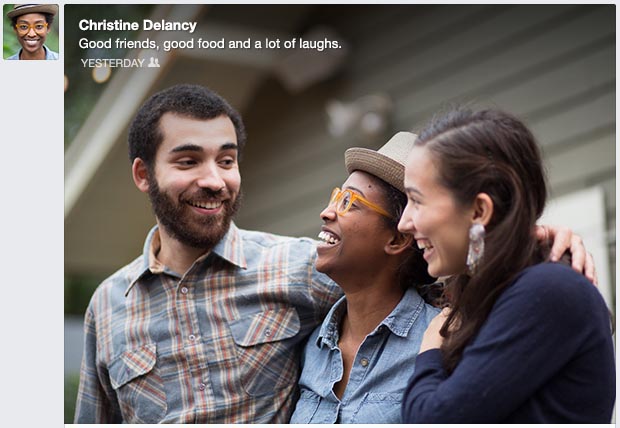 I just switched to making landscape images instead of square, where possible. Our wonderful reader Rosa Perry has advised me that the images appear in the new Timeline at 505px by 375px. And by my calculations, they appear in the new news feed at 550 x 420 pixels. I'm making new images at 600 x 446 pixels, which scales down to fit. (Facebook has advised a 600 pixel square).
But it looks goofy on my Facebook Fan Page Timeline.
My suggestion, for now, is to create new Facebook Page photos square or landscape at 600 pixel width, when possible (sometimes you just gotta have a tall image!).
Please let me know your thoughts, what you've seen, or are doing now. I promise to keep you posted on the new Facebook Timeline and the latest Timeline update!