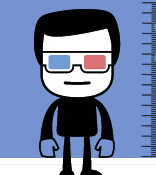 Need a Facebook Cheat Sheet?
Here are the Facebook sizes and dimensions on a fun infographic.
I've covered the Facebook photo sizes before, but I really like the clever characters on this chart from Techwyse. I thought you'd enjoy it too!
Facebook Cheat Sheet: Sizes and Dimensions [infographic]
This Facebook Cheat Sheet was first published on Techwyse April 24, 2013, and has all the old reliable sizes we've been using since Timeline rolled out March 30, 2012.
UPDATE Feb. 17, 2014: Facebook has recently started allowing flexibility of photo shapes on both personal profile and Fan Page walls. So, feel free to vary the shapes of the photos you post to your wall. They don't have to be square.
If you find the Facebook sizes & dimensions helpful, share this Facebook Cheat Sheet with a friend!

Share and Enjoy