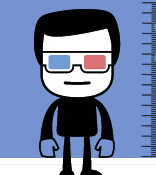 Need a Facebook Cheat Sheet?
Here are the Facebook sizes and dimensions on a fun infographic.
I've covered the Facebook photo sizes before, but I really like the clever characters on this chart from Techwyse. I thought you'd enjoy it too!
Some readers have asked if I'll recommend new Facebook photo sizes due to the changes announced March 7. At this time, the new Facebook Timeline is only for personal profiles, so Fan Page wall photos will remain square. The new Facebook newsfeed design is taking forever to roll out, and I haven't heard anyone suggest creating horizontal wall photos. If you do make horizontals, they'll be cropped to square on your Fan Page Timeline.
Facebook Cheat Sheet: Sizes and Dimensions [infographic]
This Facebook Cheat Sheet was first published on Techwyse just a week ago, and has all the old reliable sizes we've been using for the past 13 months. If I hear anything different, you know I'll be on it!
If you find the Facebook sizes & dimensions helpful, share this Facebook Cheat Sheet with a friend!

Share and Enjoy