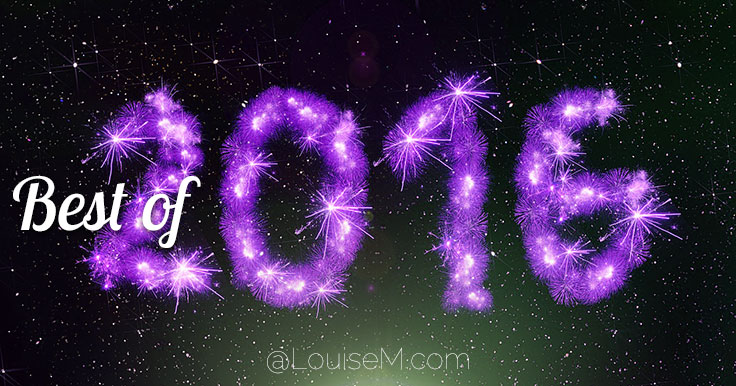 What were the best of 2016?
I reveal a gamut of my bests this year, including:
My Best Blog Posts of 2016
My Best / Viral Pinterest Pin
My Best Instagram Posts of 2016
My Best Achievements of 2016
And more!
My Best Website Traffic Ever in 2016
2016 saw some awesome traffic to my blog. You can see on the Google Analytics chart how traffic slowly grew through 80% of the year. That caused my Alexa rank to rise!
(Those dinky-looking bumps through most of the year are actually darn good traffic of 4 to 8,000 sessions on weekdays).
On September 14, I broke into the top 50,000 websites in the world, at 49,784. Then due to a crazy viral Pinterest pin, my site received huge quantities of traffic in the third quarter, and continued to rise to number 39,221 ranked site in the world on December 7.
(According to Internet Live Stats, there are over 1 billion websites that each have a unique hostname. I'm in the top 40,000!).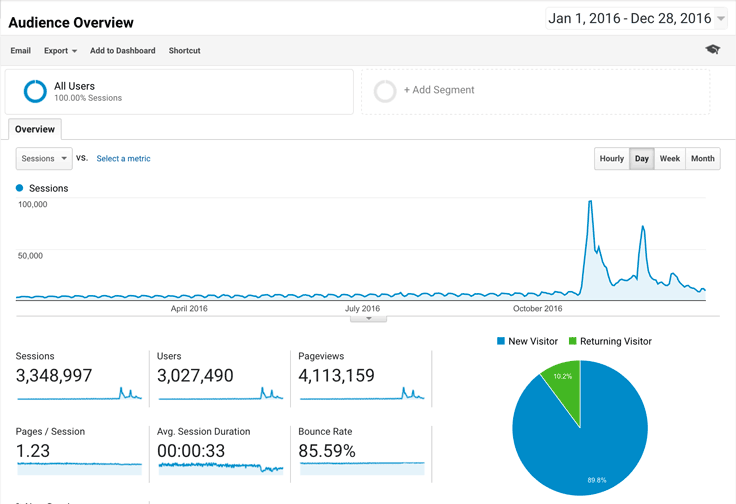 Overall my site received 4,116,418 pageviews as of Dec 28, 2016. Fully 40% was due to…
Best Pinterest Pin 2016
Pinterest has been my #1 social traffic referrer for years, but it's always fallen far behind Google search traffic.
Well, no more! For the two month period from October 24 through December 23, Pinterest was responsible for 1,464,629 pageviews, or 99% of my social referrals. This was 3 1/2 times the traffic I got from organic search during that period.
Virtually all of the Pinterest traffic was to this one post on Favorite Colors. It was published in January, and never even hit triple-digit daily traffic until June 25 (see graph below).
Pinterest started showing this pin to more pinners in October, and testing their reaction, is my guess. At its peak, that post got over 100,000 views for each of 2 days. Pinterest drew back, but that pin had legs. I think they gave it another boost in the Smart Feed 2 more times as they saw there was still interest in it.

When I started seeing that post go crazy, I quickly made the post into a downloadable report to capture some of those visitors' emails. Not sure where I'm going with this list, but I got 4,400 signups in 2 months. About 20% of those did unsubscribe right away, still leaving me with a list as large as my main blog list (which took 4 years to build!).
Last year's most viral pin was the infographic from Words to Live By: Best Inspirational Quotes. That post now has 90.2K pins. Favorite Colors has surpassed it with 127.4K. My perennial favorite Social Media Cheat Sheet has 36.2K.
As far as Pinterest follower growth, I added 9 to 10,000 followers this year. I didn't employ any special tactics other than pinning about 10 times per day with Tailwind. Highly recommended!
I'm a Tailwind affiliate, so I'll make a tiny commission if you use my link, but I honestly couldn't recommend a product more highly. I love it!
I'll close the year with about 14K followers. On February 12, I had 4.9K followers. Follow me here!
My Best Blog Posts of 2016
I've published 491 blog posts over 5 years. My top two posts generated 56% of my traffic this year (yes, over half, from two posts!).
ONLY the Favorite Colors post was originally published this year. Many of the others were also on the top ten last year.
What Does Your Favorite Color Say About You? [infographic]
Social Media Cheat Sheet 2016: Must-Have Image Sizes!
Instagram Comments Blocked? Here's What You're Doing Wrong
How to Change Your Facebook Page URL in 2015
How to Use Hashtags on Instagram for Explosive Growth
What's the Correct Facebook Event Image Size?
Rock your Instagram Profile Picture with These Tips!
Can You Post to Instagram from Desktop? 10+3 Options to Try
Ingenious! Facebook Cover Photo Mobile AND Desktop Template
20+ EASY Ways to Make Picture Quotes Online!
Obviously, question marks and exclamation points RULE! 😉 Seriously though, these posts have valuable – and often-updated – info that can be hard to find elsewhere.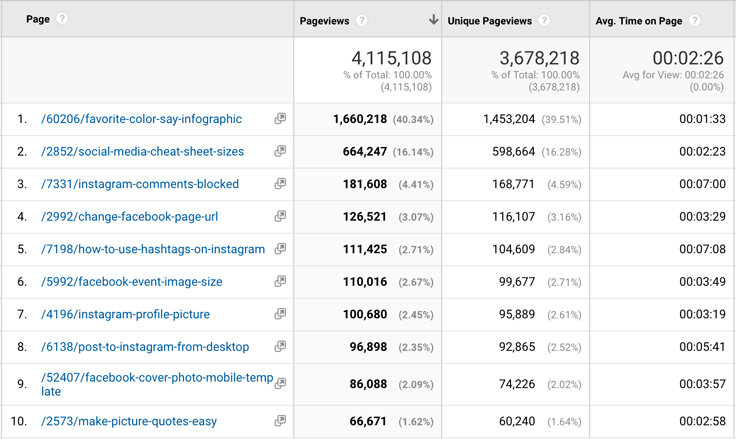 Best Instagram Posts 2016
Have you tried this? Find your best nine Instagram posts of 2016 (by number of likes) by visiting 2016bestnine.com. After you enter your username, a collage will be automatically generated. It takes a few minutes.
Here are my top nine on my business account and on my personal photography account. Be sure to follow me if you're not already!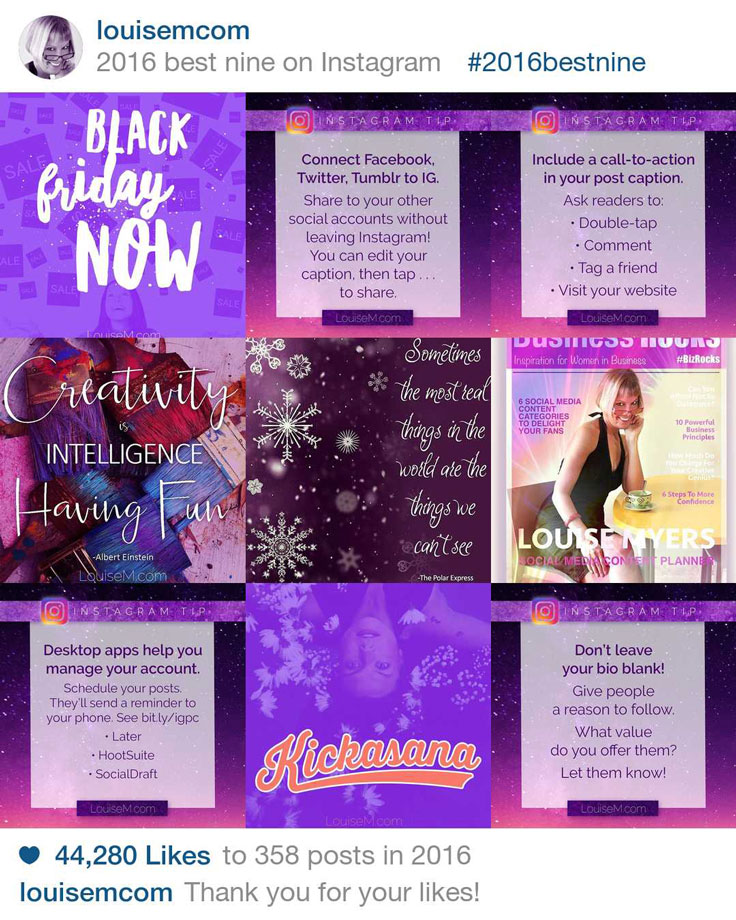 I got the purple thing down! Follow LouiseMcom on Instagram for graphics and posting ideas. You'll find great stuff to share, too!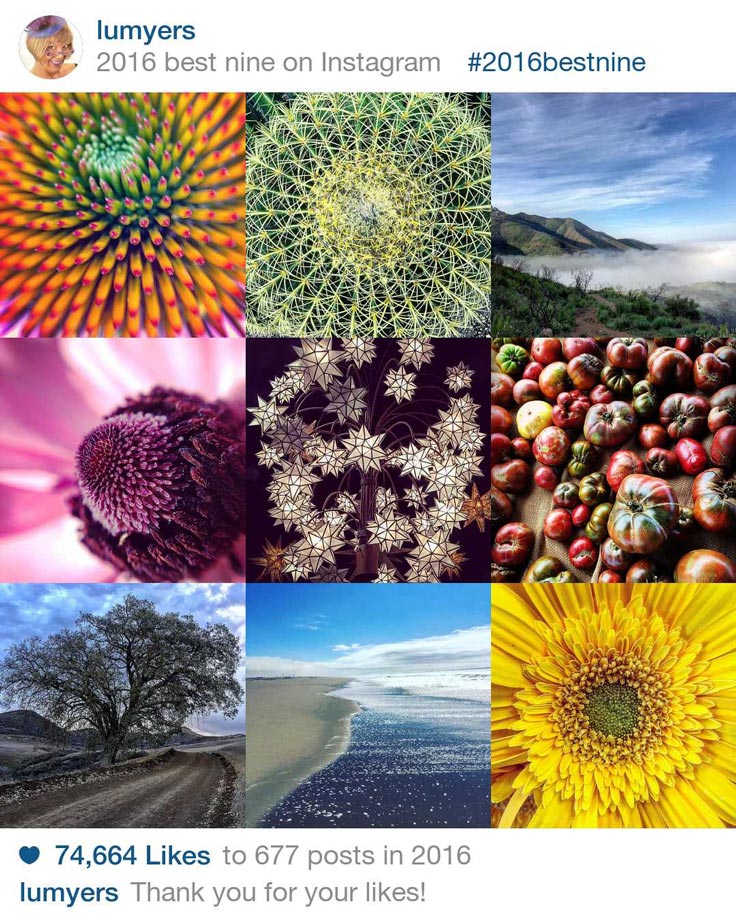 My IG photo account is full of color, and inspiration for your own photography. I edit almost exclusively in Instagram and list my edits in a comment. Follow my photo account here.
Another tool to try: InsTrack iOS app will create a video of your 5 best posts, also free.
Better Focus Achieved in 2016
I continued to focus more on creating an online digital business, and less on custom client work. I definitely owe some of my confidence with that to Kevin Kirchner of Entrepreneur Model.
Well-meaning people have been recommending for years that I train non-designers to do their own design. I know this is not my talent, passion, or calling. Thanks to Kevin, I was able to see that there are many types of digital entrepreneurs, and I can be one that works for me. If you're struggling in this area, do check out his site!
I started working like gangbusters on my Social Media Content Planner in August, launching my Fall 2016 beta version at the beginning of September, and my Winter 2017 edition over Black Friday. Please check it out – I'd be honored!
• • • Check Out the Social Media Content Planner! • • •
I also launched 3 graphics packs in early December, and have an ebook and 2 video courses on tap for the next couple months. Check out my Resources Page to see what's up!
As far as social platforms, I focused more on Pinterest and Instagram, which I enjoy and see results from. Life is too short to get upset about crummy Facebook reach, or whether Google+ will be around next year 😉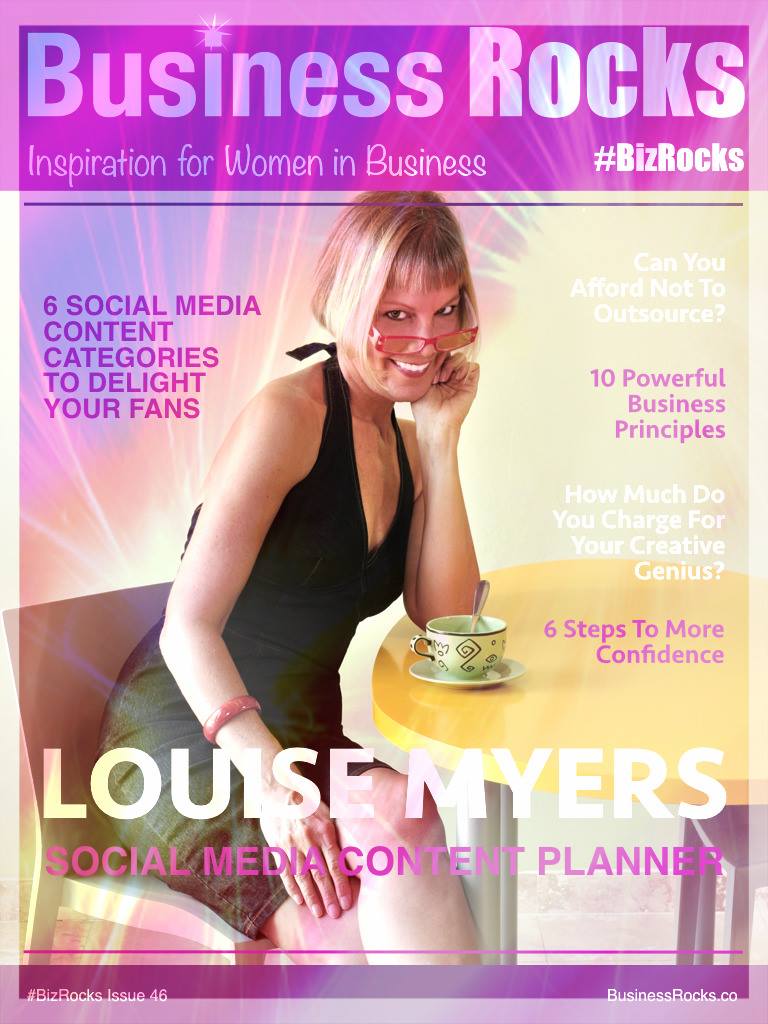 I got a cover feature this year on BizRocks magazine, thanks to the delightful Emma Burford! Get a free issue here.
Plus, I was recently asked by influencer John Paul Aguiar to guest post on Brainy Marketer as the resident Pinterest expert. Thank you John!
Check out his upcoming FREE Twitter training here. John knows Twitter!
At the beginning of the year, I started a productized service business with a writer friend, and took on a social media client – something I've been avoiding for years!
What's on Your Best of 2016 List?
I'd love to hear your favorites – share your own Best of 2016 in a comment!