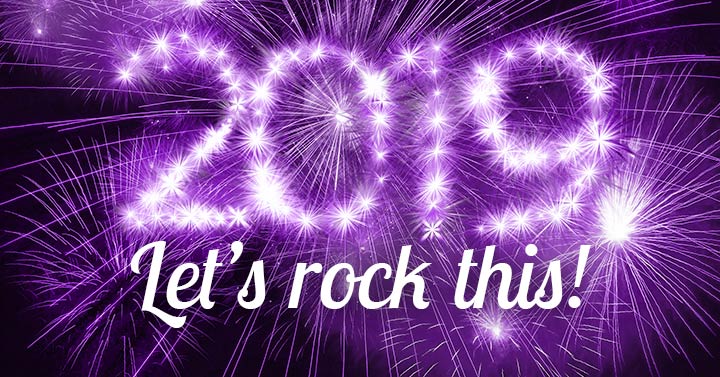 Checking out 2019 business trends?
You're sure to hear a lot about personalized service, algorithms, big data, artificial intelligence, Generation Z, blockchain… and any number of other things that I don't use, and barely understand!
This article is geared more towards the solopreneur or micro-business. And it's a very personal review of what I myself have tried in 2018 – and what's working for me.
Which built upon what I tried in 2017, so you can see what's still working for me!
I reveal a gamut of my bests this year, including:
My Best Social Media of 2018
My Best Blog Posts of 2018
My Best / Most Viral Pinterest Pin
My Best Income Producers of 2018
My Best Instagram Posts of 2018
My Best Personal Achievements of 2018
Plus some of the crummy stuff 🙁
And I tell you what I plan to do more of, and what I'll dump!
In 2017, I reported that I still worked too many hours on my online business, but started to see the results I'd been seeking – in some areas.
The others, I'd greatly cut back or eliminated. This is KEY to succeeding without driving yourself nuts: Focus on what brings the greatest ROI. In the case of the solopreneur, that's Return on Time Invested.
Do you know the Pareto Principle? 80% of your results come from 20% of your efforts. So stop spinning your wheels on the stuff that's not driving results.
In July 2018, I made a major business- and life-changing decision.
And due to "life" happening, I had to really cut back on stuff that wasn't moving the needle. I just didn't have time for non-income-producing activities!
So what happened?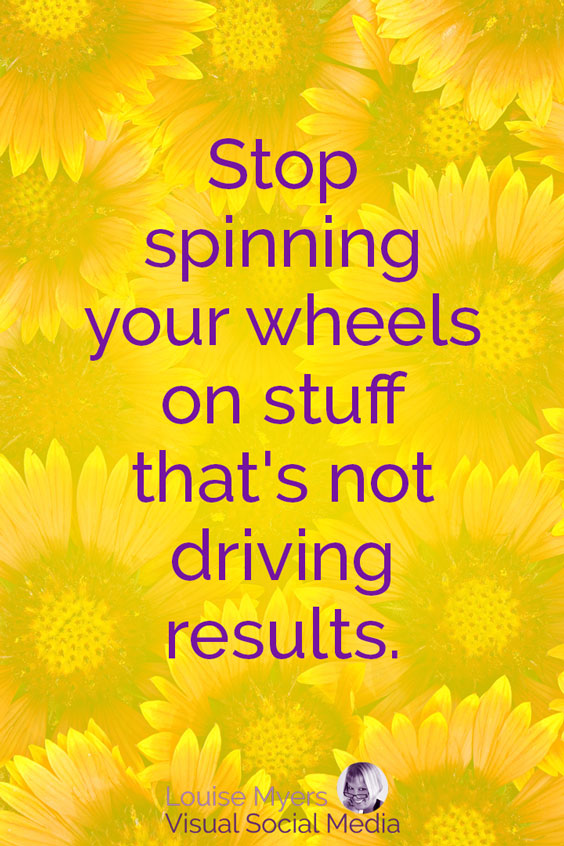 My Life-Changing Business Decision
It sounds hypey, but it's not. And only because it worked for me – it might be a bust for you.
I added advertising on my site.
Sounds like nothing, right?
Well let me tell you, this was a decision I'd wrestled with for years. I'd even applied for the ad network Mediavine back in January 2018, then decided not to enable it.
But in July, I happened upon a post in a Facebook group where John Rodgers commented he was making $1,000 a month with Mediavine.
With a fraction of my traffic!
So did I jump in and never look back? No…
I still researched and worried that ads were tacky and would ruin my credibility.
But when I finally jumped in – I realized that optimizing my site for ad income is THE perfect fit for my analytic/creative brain.
And ad income is THE most passive kind of income, which definitely fits my stage of life.
I saw that this income source alone had the potential for 6 figures in 2019.
With my traffic. Which is pretty huge.
I still think this decision could be wrong for many sites.
Say you're selling high-priced digital products, or you're a service provider, coach, or consultant.
Then ads would detract from your brand and your cachet.
But for the HUGE majority of my readers, I'm a source of free information via my blog posts and my member resources.
Plus, I love watching my traffic stats, tweaking things, and otherwise working behind the scenes.
And I no longer accept clients. So it's perfect for me.
Hurray!
My Best Social Media of 2018
There's just no question here, and if you've been following me for more than a few minutes, you know this:
Pinterest rules my world for driving traffic.
Here are my stats for 2018, followed by 2017.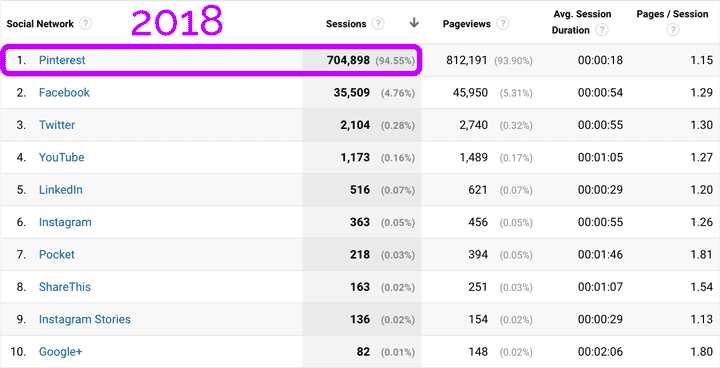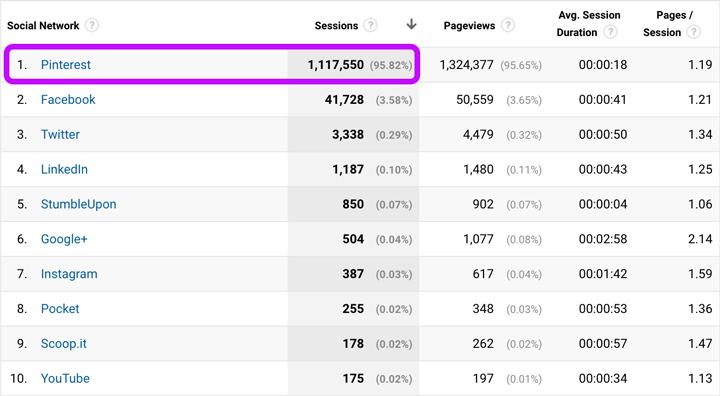 WARNING: Pinterest isn't really a social platform.
You can't connect with potential customers there, and build the know-like-trust that helps people decide to subscribe or buy from you.
MY #1 goal now is traffic for ad income. Yours is likely product sales, or new clients.
Engaging with your target audience on social media is a must for you.
Here's Neil Patel on why you need social media marketing.
Back to my stats, you can also see that Pinterest traffic is VERY bouncy. Look at those seconds on site compared to the social networks! That's because my top pins by far are infographics. Not much to read on those posts, as most of the info is already on the Pin.
All those Pin save give me millions of quality backlinks, though!
Pinterest brought in 95% of my social referral traffic in 2018, after 96% in 2017.
I really focused on optimizing my Pinterest game in 2017, and it paid off big time. I received 1.1 million sessions from Pinterest that year, which was close to 25% of my total traffic. (Organic search is my top referrer, at just over 3 million sessions for 2017).
In 2018, that one crazy viral pin (see below) died down somewhat, which was fine with me! My total sessions were 705K, about 12% of my total traffic. (My organic search traffic grew a lot!).
In August 2018, my Pinterest followers started growing at a rate of about 300 per week. I ended the year with 28,901 followers.
In 2017, I gained 5,000 Pinterest followers to end the year just over 19K.
Want to improve your Pinterest game? Get my free e-course for beginners.
Get ONE simple action step each day. Join now!
• • • CLICK to get your FREE Pinterest Basics e-course! • • •
If you're beyond that stage, read how I automate my pinning with Tailwind.
P.S. I absolutely love the new Tailwind SmartLoop as it helps me spend a fraction of the time on Pinterest.
Conclusion: More Pinterest, Less everything else.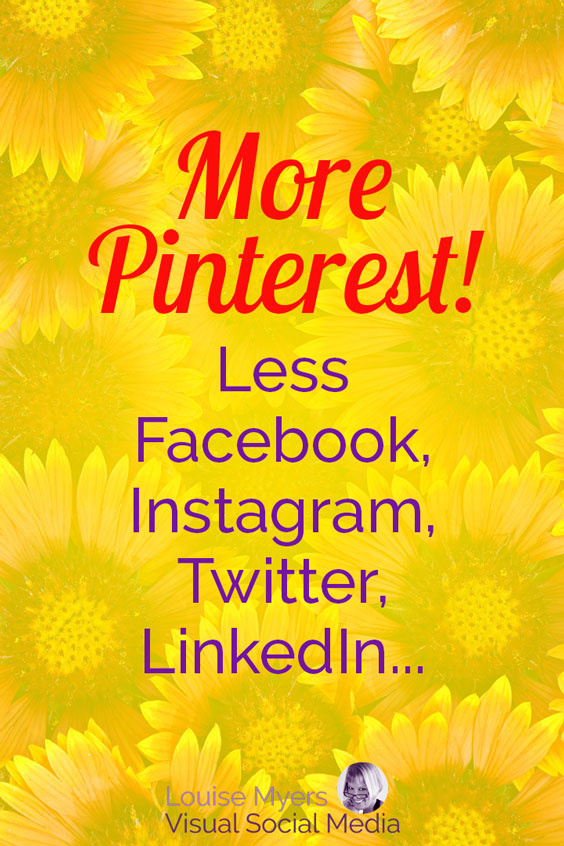 My other social channels
I automated my Twitter, LinkedIn, and Google+ posts, so I was able to stay "active" there. Read this for how I automated social media.
Using Facebook and Instagram for business takes so much thought, effort, and engagement that I largely abandoned them in 2017. They are NOT a source of easy traffic, especially for business-to-business.
Toward the end of 2018, I stopped posting on FB and IG for business. I had no time, and they were sending a tiny fraction of my website traffic (my goal, not necessarily yours!).
You'll see that my traffic from these other social channels only dropped a bit, because others still shared my posts.
And really, that 1% loss in my traffic was not missed. Especially considering that the time I gained back was put to more effective use.
Be sure to evaluate which social media is working for YOU!
READ: How to Boost Your Social Media Strategy for 2019
Meanwhile, my Instagram personal account is my absolute favorite, but that's a different story.
In 2017, I said I spent way too many hours creating 10 videos for YouTube and Facebook. Waste. Of. Time.
But in late 2018, I created a few simple videos with Adobe Spark Video as another monetization channel. Which is NOT a waste of time!
My Best / Most Viral Pinterest Pin
The Pin that won't die:
Yeah, I wish it were something else, but Pinners seem to love that one!
Last year I said it was rapidly approaching 1/4 MILLION saves – 250K saves in just under two years.
Now that one infographic must have 300K.
To keep the page alive, I keep adding more images. Go Pin your favorite color!
I built a list of 7,000 subscribers from Pinterest traffic to that post in six months of 2017, but couldn't figure out how to monetize it. It was just too far afield of my core business, so I archived that list this Spring. But I think you can see the power of Pinterest traffic!
On the strength of Pinterest alone (because Google doesn't rank that page at all), that post was my #2 for overall website traffic in 2018.
And now I make ad income from that weird post!
My Best Posts for Pinterest Traffic
Once again, my top posts for the year were infographics and Promoted Pins (paid ads).
2018 Pinterest traffic stats, followed by 2017.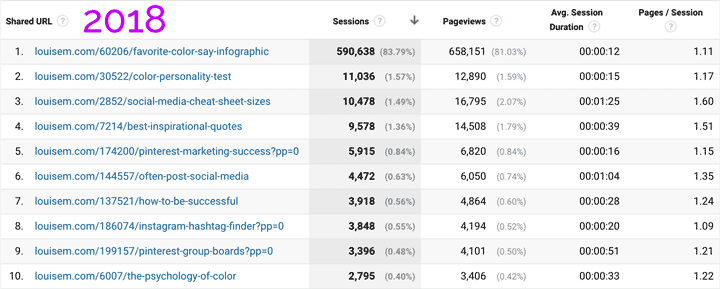 2017 Pinterest traffic stats were VERY similar!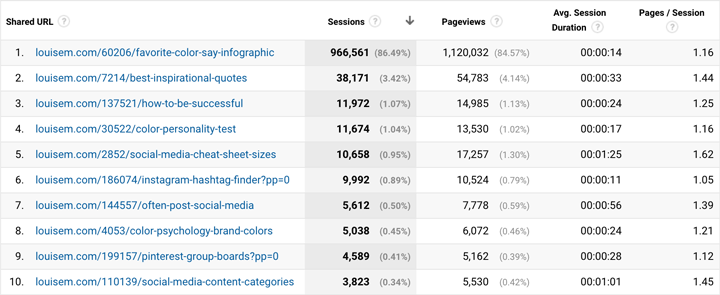 I still believe in infographics! Read my current thoughts on Pin sizes.
I will add that the Pins that drive traffic that stays on site link to tutorial posts. Traffic to a brief blog post with an infographic usually bounces quickly.
Combine a tutorial or sales page with an infographic, and you've got a winner!
Conclusion: More infographics, Less repinning of posts that aren't monetized.
I keep a list of high-traffic posts that I want to monetize before I add them back into my pinning schedule.
My Best Blog Posts for Organic Search Traffic
I love search traffic: It's steady and reliable.
Google loves my posts that I keep updated, and also posts with Facebook and Instagram keywords.
Below are the top blog posts for Organic Search Traffic from 2018, followed by 2017. Keep scrolling for links to these blog posts.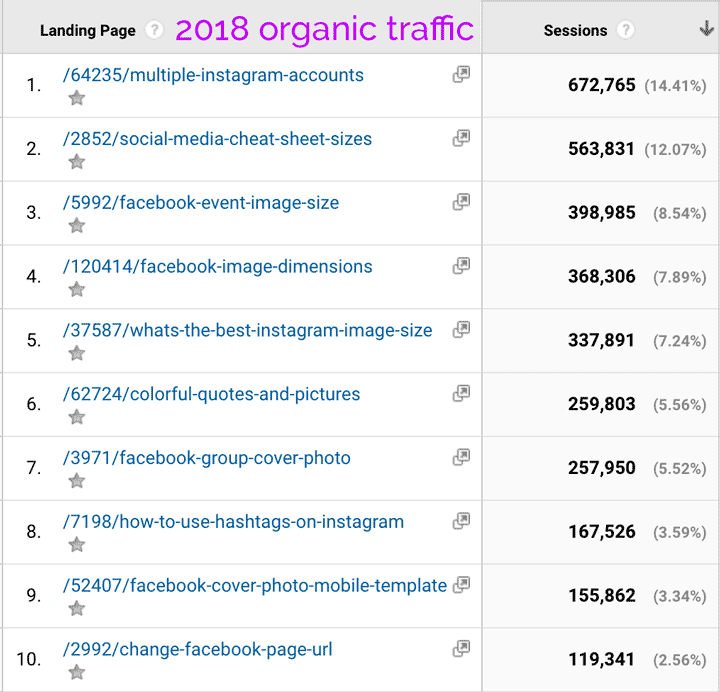 Top blog posts for Organic Search Traffic 2017: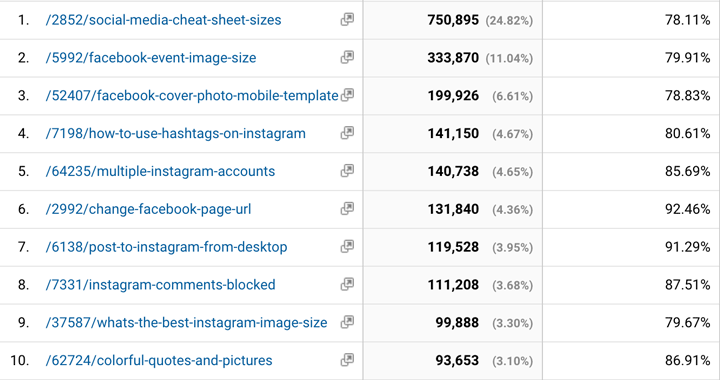 Did you know? I was one of the first people to blog about visual marketing on Facebook, way back in February 2012 when Facebook announced Timeline for business pages.
I had a pretty good SEO / keyword strategy, and Google quickly recognized me as a reliable source of quality content on Facebook visual marketing.
P.S. Some of these top posts, like changing your FB URL, are likely a bit rare online because they're not easily monetized. I don't keep that one updated but it still draws hordes of traffic. When I started blogging, I didn't have a whole lot of strategy for monetizing my efforts. That's definitely changed in the past couple years. Blogging is too much work to do for free 😉
Gong forward into 2019, I'm planning to update more of these previously unmonetizable posts – because ad income!
Conclusion: More writing and updating posts with a lead capture, Less time on content that doesn't pay off.
Links to my Best Blog Posts of 2018
Mediavine taught me to really really cut back on publishing new content.
You don't want to churn out content few people care about. 
You need to carefully craft quality, in-depth content on your niche of authority. And keep your quality content updated!
At the end of 2017 I'd published 568 posts over 6 1/2 years. I only published 62 more in 2018 – almost all of them before I joined Mediavine.
Only 6 new blog posts from September through December!
Of course, I kept my best posts updated.
Here are the top ten this year, by traffic from all sources. NONE were written this year, and 7 of 10 were on the top ten last year.
And 80% of 2017's posts were on the top 10 in 2016! Sensing a trend?
Blogging is a long game.
My Top Ten Blog Posts:
Social Media Cheat Sheet 2018: Must-Have Image Sizes!
Easily Manage Multiple Instagram Accounts with Account Switching
What Does Your Favorite Color Say About You? [infographic]
What's the Correct Facebook Event Image Size?
The Latest Facebook Image Dimensions 2018: Infographic
What's the Best Instagram Image Size 2019? Infographic
Facebook Group Cover Photo Size 2018: Free Template
33 Colorful Quotes and Pictures to Energize Your Life
Ingenious! Facebook Cover Photo Mobile AND Desktop Template
How to Use Hashtags on Instagram for Explosive Growth
3 more from the top 10 of 2017:
How to Change Your Facebook Page URL in 2015
Can You Post to Instagram from Desktop? 10+3 Options to Try
Instagram Comments Blocked? Here's What You're Doing Wrong
Overall website traffic for the year: 5.8 million sessions, compared to 4.5 million in 2017.
Thanks to my updated content and Google love, I climbed into the top 30,000 websites in the world all year (as ranked by Alexa).
You can see that adding Mediavine ads in mid-July didn't hurt my authority one bit!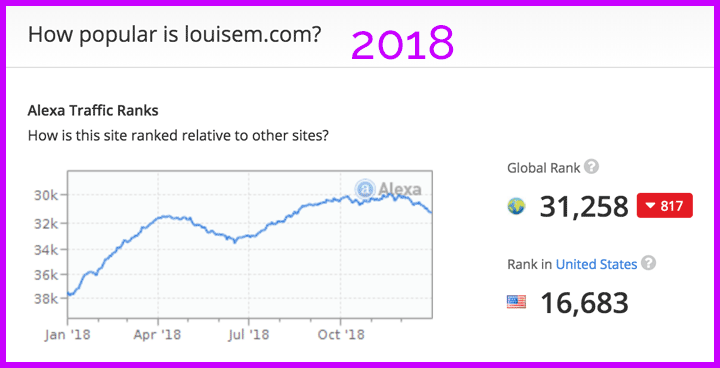 My traffic dips right before the winter holidays, and in summer. Typical for B2B.
In 2017, I stayed in the top 44,000 websites per Alexa. Still climbing!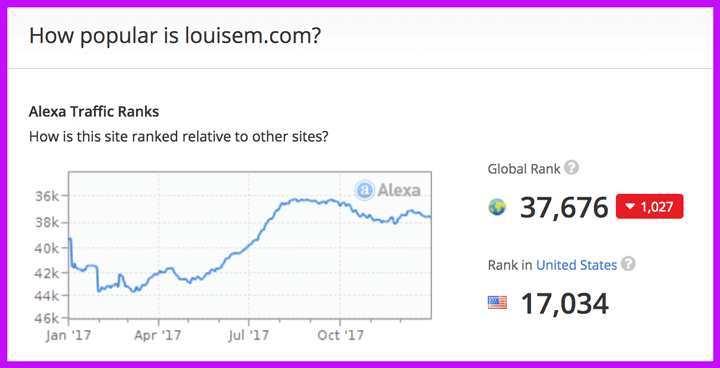 (According to Internet Live Stats, there are over 1 billion websites that each have a unique hostname. I'm in the top 44,000!).
Conclusion: More updating and maximizing posts that get traffic, Less worrying about ones that don't.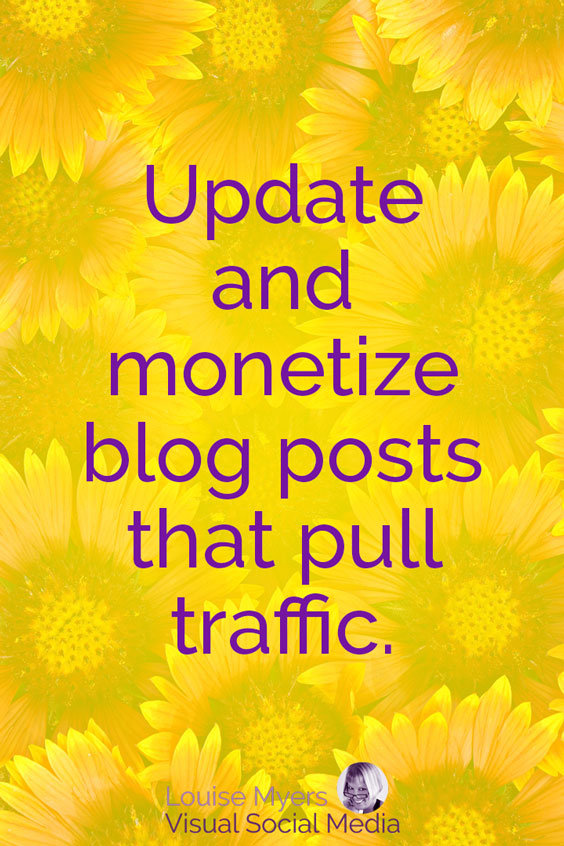 My Best Income Producers of 2018
Once I added advertising to my website, that was by far my top income source.
I also earn from affiliate marketing and my digital products, which I've been working on for about 2 1/2 years now.
If you don't know my background story, I was a happy and successful freelance graphic designer for 25 years – from June 1984, until the recession pretty much killed my business in 2009.
I turned to the internet, but I was unable to find the well-paying corporate design work I loved and was best suited for.
I started blogging to try to attract a clientele, but they were a bad fit for my skills and income expectations.
I hit on some visual marketing topics I liked (and lots of readers did too), but I didn't know how to make a real income from this skill. For years.
A few people told me I should teach business owners to do their own design – but that neither interested me, nor did I feel qualified to teach something that, after decades of being creative, seemed to come naturally to me.
But there had to be a way to earn something off my blogging skills and traffic.
I've created SO many products: Graphics, ebooks, and mini-courses. But only has exceeded my expectations: my Social Media Content Planner.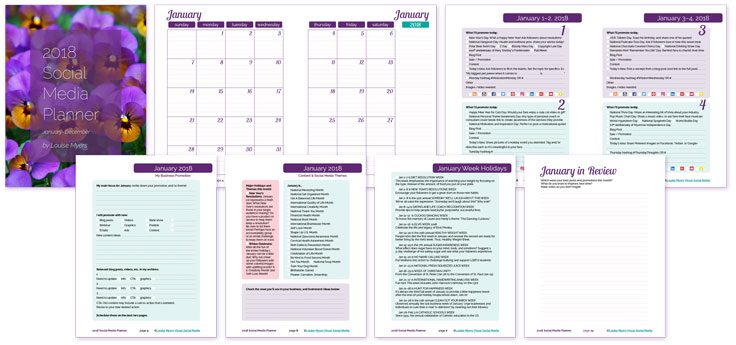 My affiliate marketing efforts
I started getting serious about affiliate marketing in April 2017. I grew my monthly affiliate income that was $100–300 per month prior to this, to $1,000–2,000 per month.
Affiliate marketing incorporates skills I love, which are research, reviews, blogging, and Pinterest 🙂
With little of the things I don't, like complicated techy things, networking, and customer support.
So yay to that 🙂
You can find my own products, as well as recommended products, on my resources page.
Conclusion: More affiliate marketing and growing my Planner subscribers, Less of trying everything.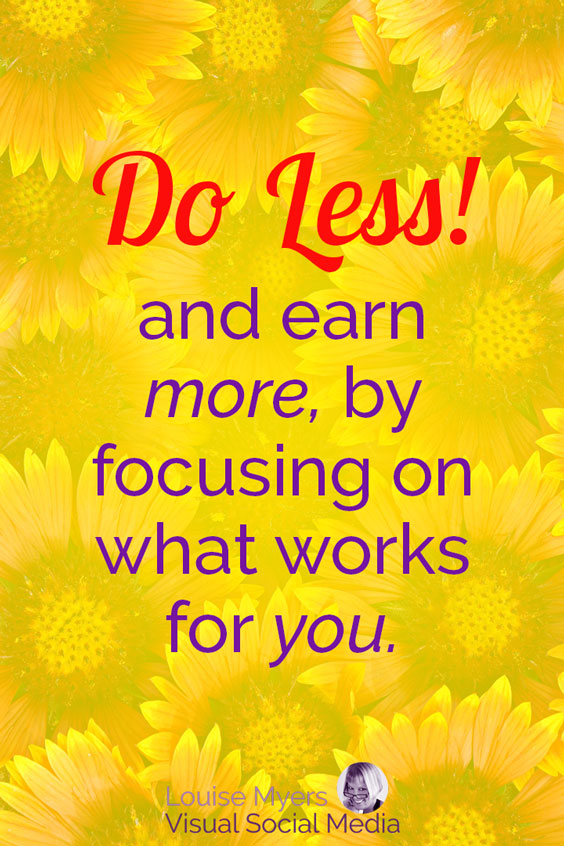 My Crazy Life of 2018
My elderly mother declined rapidly at the beginning of 2018. I managed her care and traveled to see her as often as I could.
She finally passed away in late September. My next task was to close out as much of her estate as I could before the end of the year.
While also cranking on my Social Media Planner for 2019!
Required info for this project isn't available until end of September each year, so it's already quite the task to get done for November, when people are ready to start planning the next year. Now I had Mom's funeral, bills, paperwork, etc to deal with too.
Then on November 8, I awoke to learn of a mass shooting 4 miles from my home.
The next day, I was on evacuation alert from the Woolsey fire!
So, the end of the year was crazy.
As you may have heard, my daughter had my first grandbaby in July! More travel and time off.
I did get that Disneyland Annual Pass I mentioned last year, and squeezed in about 15 day trips last year.
Usually sparking up that purple hair streak before my visit!
This pretty much sums up 2018:
It was the best of times, it was the worst of times.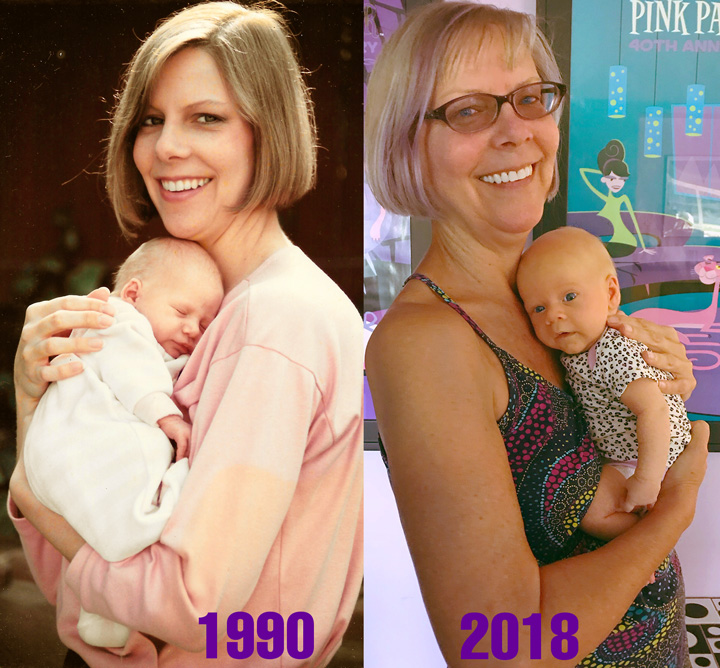 My Best Personal Decisions of 2017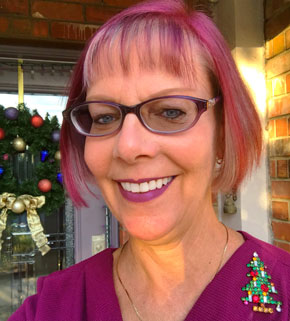 More colored hair.
More mother-daughter time.
More "playing hooky" to do personal things during business hours.
Less overworking.
Annnd… I plan to get a Disneyland Annual Pass this year, and take more weekdays off 🙂
My Best Instagram Posts of 2017
Have you tried this? Find your best nine Instagram posts of 2017 (by number of likes) by visiting 2017bestnine.com. After you enter your username, a collage will be automatically generated. It takes a few minutes. Keep the window open while you go do something else.
Here are my top nine on my personal photography account. I'm not even going to post the grid from my business account LouiseMcom because the images got cropped weirdly by the best 9 website.
My photo account is full of color, and inspiration for your own photography. I edit almost exclusively in Instagram and reveal my edits in a comment. Follow my photo account here.
I'm sure you'll be seeing some Disney pics this year 🙂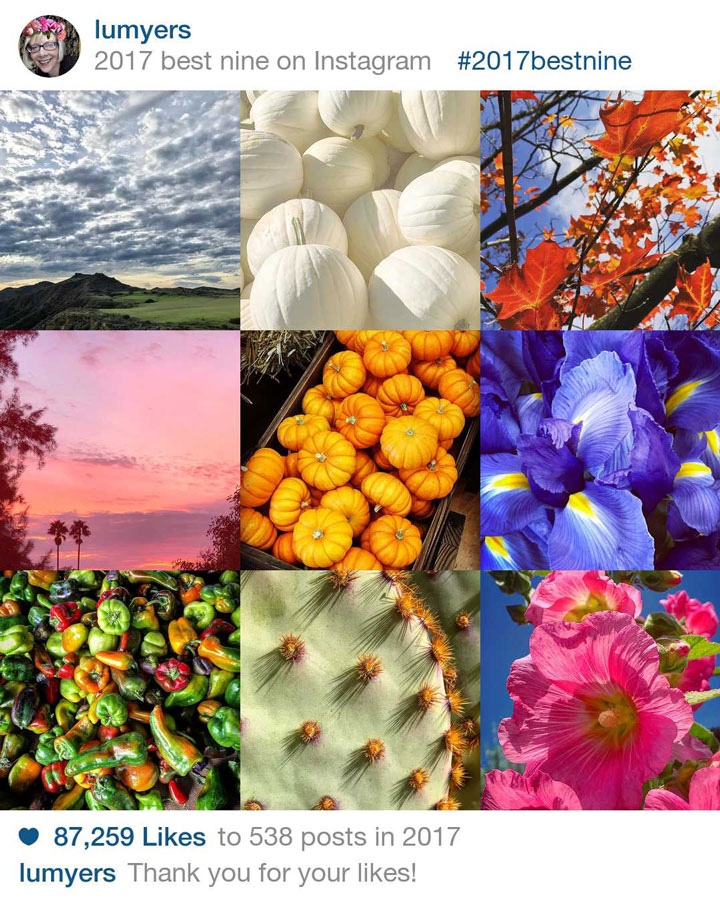 What's on Your 2019 Business Trends List?
This post you're reading incorporates my latest 2018 stats, as well as my prior report on 2017.
If you're interested, here are my prior years in review:
I'd love to hear your achievements this year – share yours in a comment! And let me know which business trends you plan to pursue this year.