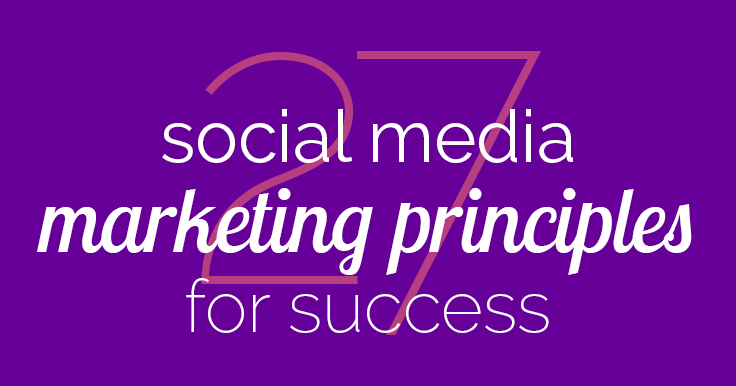 Want to know the best social media principles to succeed online?
Awesome – you're in the right place.
I've created a colorful infographic and a handy checklist for convenient reference.
Download the checklist, pin the graphic, and you might just want the full, 66-page Social Media Principles ebook, too! I'm offering it FREE with purchase of the even-more-awesome Social Media Strategy Guide (at a special launch price!).
Read on after the infographic for all the details you'll find on your free checklist.

27 Social Media Principles You MUST Know to Succeed Online
Here's a handy recap of all 27 of those social media principles that you can start putting into action today!
No time to read? Download it!
• • • CLICK to Get your FREE Social Media Principles Checklist! • • •
The single most important way to gain followers and keep them is to give them something of value worth following!
You can't just post about how good your business is – no one wants to read that!
Post What YOU Would Want to Read
To know if you're on the right track, ask yourself if you would read it!
Learn How to Create Titles That Grab Attention
Titles need to promise something different and speak to readers on an emotional level.
Understanding the Value Proposition
Tap into the reason that people are interested in your niche. How does it improve their lives?
Always Deliver on Your Promise
If you have a bombastic title, make sure the content can back it up!
Make Your Followers Feel Important
Talk about your brand in a passionate way and make your subscribers feel like a part of an important "movement" of some kind. This is your tribe.
Give Back to the Community
Don't just post about your blog – take part in the communities you wish to promote to.
Be Personal, Where Appropriate
Consider creating a personal brand, if it suits the tone and subject matter of your business.
Save this article as a printable checklist!
• • • CLICK to Get your FREE Social Media Principles Checklist! • • •
Promote Your Social Media on Your Blog
Your blog promotion and social promotion should be synergistic.
Learn to Sell the Lifestyle
Show the lifestyle that your customers want!
Social media is a communication tool first and foremost. Make sure you actually respond to comments and questions!
Once you have created a pattern, stick to it! Here's more on how often to post.
Experiment With Other Types of Content
Don't be afraid to try quizzes, infographics, and games.
Start with a platform you know, and your audience frequents. If possible, use multiple different channels to be easily found.
Take Advantage of New Technologies
Live video streaming is big right now, and new – meaning it provides new opportunities. Don't miss it, and keep your eyes open for more opportunities like this in the future.
Create a Professional Brand
A professional headshot or great logo will go a long way toward promoting your business.
Stuck for ideas? Want to appeal to a new audience? Then try combining two different niches into one new one!
Don't Try to Cater to Everyone
Try to please everyone and you'll end up pleasing nobody! Focus on one particular type of person with particular interests, and be unapologetic about it.
No time to finish reading? Download it!
• • • CLICK to Get your FREE Social Media Principles Checklist! • • •
Facebook ads are fantastic for finding targeted fans.
Work With Partners and Influencers
Influencer marketing is one of your most powerful tools for gaining more followers.
Use Contests and Other Events
Contests and other events help to get people more engaged and involved, and they can also lead to more shares and promotion for your channel.
The one type of self-promotion that is also providing value is a genuine discount. Make sure it is exclusive and appealing!
Understand the Psychology of Sharing
People share things that allow them to express themselves. This is worth remembering when thinking of what to post that might go viral.
Ultimately, what's really important is that you write great content and present it well. This is what will really provide value. Can't write? Hire a writer!
Learn to Take Amazing Photos
Social media is also very visual. Learn to take high-quality photos to help you to grab attention and build a following.
Automated posting tools can be useful in the right doses!
Ultimately, the aim is not to build a large number of subscribers, but to think more about quality. Build true fans and your business will thrive like never before!
Save this article as a printable checklist!
• • • CLICK to Get your FREE Social Media Principles Checklist! • • •
Conclusion
I can't overstate the importance of the last principle. Provide valuable content and genuine engagement. Buying followers, or offering "follow for follow," will never get you real business leads that will buy from you. Most aren't even interested in what you do!
That's one huge reason it's so important to know your target audience, and your business' vision and goals for social media. My NEW Social Media Strategy Guide will help you get that sorted! Plus, you get the full 66-page Social Media Principles included free with purchase. Check it out here!
Would your followers learn from these social media principles? Pin, tweet, or share this post!