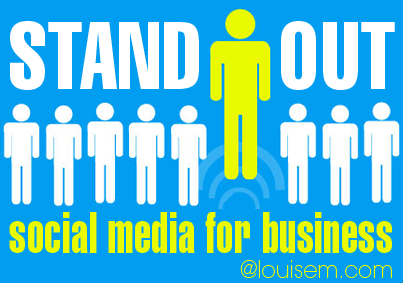 Using social media marketing for business?
Want to know how your business can get noticed?
Instead of fighting for attention amid the noise, stand out!
This infographic gives you 6 keys to stand out with social media for business. It's all about differentiation: distinguishing your offerings from others, to make them more attractive to your target market. [pinit]
6 Keys to Stand Out with Social Media Marketing for Business
Pay attention with targeted social listening
Apply what you learn to meaningful interactions
Develop your brand persona
Create content focused on your prospects' needs
Build a team, define your process, and implement it!
Measure the Return on Investment


Infographic used with permission from Stand Out Social Marketing
Want more info? Check out the brand new Stand Out Social Marketing book by Mike Lewis. Get all the strategies to stand out with your social media marketing for business!