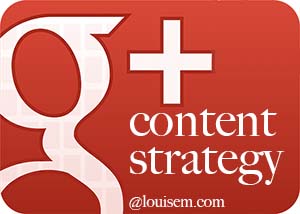 Do you have a content strategy for Google Plus?
Let's face it, Google is king of search, and being active on Google+ can only help your website.
But where to begin? Here are 64 tips compiled by SocialMediaOnlineClasses.com on a simple infographic. Whether you're just getting started, or ready to delve a bit deeper, you'll want to pin this graphic to refer to often.
Some detailed strategies:
Link Google+ to your blog

The first step in getting results from Google+ is connecting your profile with your blog's home page. This is the gateway step to claiming your content in the eyes of Google. It will also go far in generating incredible results, including displaying your photo next to your blog post links and a wikipedia-style profile listing in Google search results whenever anyone searches for your name.

Build strategic networks with circles

Circles allow you to organize connections into the groups you interact with in your life. Family, Friends, B2B, B2C, Local, Media, Influencers, Quilting (my hobby, about which I wrote an award-winning book). Not only can you view posts by Circles, you can send posts to Circles, yet another Google+ first. Circle's biggest benefit? People who add you to their Circles see your posts higher in Google search results. Another SEO boost.

Use Ripples to add influencers to your Circles

Ripples are a little-known feature of Google+ that identify people who shared a public post, as well as how large an audience they have. It's a great way of determining who has the power to spread your posts to the widest possible audience. You'll definitely see a trend when you start using Ripples and you'll notice those outliers who have the power to get your posts seen by a huge audience. Add these people to your Circles and engage with them.
Ripples! Who knew? You'll want to learn more from the article posted on CopyBlogger.
Help out your friends and followers! Share the Content Strategy for Google Plus infographic.
[pinit]