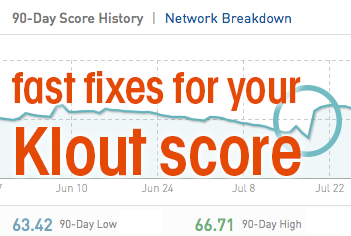 Is your Klout score dropping?
I've been there. It's frustrating!
I was recently displeased to see my score sliding down to where it was a year prior. But I found an easy fix that I want to share with you!
Here are 4 5 reasons (updated Oct. 8) why your Klout score might be dropping, and how you can bring it back up. I've put them in the order of how easy they are to fix.[pinit]
1. One of your social networks became disconnected.
I'm not sure how this happens, but it happened to me. This is the first thing you should check into, as it's an easy fix. Just go into your Klout dashboard and reconnect any accounts that have become grayed out – that means they're not connected! Your Klout score should bounce back in 2 days.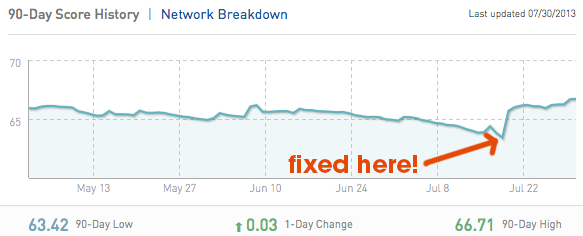 2. You switched your Facebook profile to your Fan Page.
Due to Facebook's Edgerank algorithm, very few people will get a better Klout score with their Fan Page connected. You can only connect one account, so pick the one that gives you a better score. Reverting to your personal profile should bounce your score back up in 2 days.
3. You've been slacking off on your social posting and engagement.
It's OK – you're allowed to take a social media break. Depending on how long and severe it was though, it will take you some time to get your score back up. So come up with some great social media posts – and don't forget to engage your friends and followers in conversation!
4. You had a birthday, anniversary, baby, or some other momentous occasion.
Your friends and followers will probably give you a lot of attention on your special day. This can make your score jump by several points. Most of these events happen once a year at best… and your score will slowly slip back to its former level after your "special event attention" has passed. I don't have an easy solution for this one! An exotic vacation might help 😉
5. You've added more Facebook friends, but aren't interacting with them.
Bonus tip! Check Miriam Slozberg's blog post for details about deleting Facebook friends who seem to have no interest in interacting with you. Miriam says a low ratio of interaction will hurt your score.
For more tips to increase your Klout score, see these posts: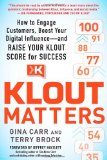 You may also want to check out the book Klout Matters: How to Engage Customers, Boost Your Digital Influence – and Raise Your Klout Score for Success, by Gina Carr and Terry Brock. Gina's an amazing Klout expert, tribe builder, and the Dean of the Social Buzz University.
Now it's your turn! Share your Klout score, or your best tips for a dropping Klout score, in the comments!