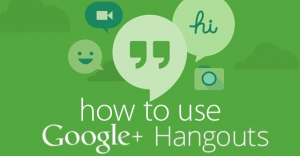 Wondered how to use Google Hangout for your business?
If you haven't thought about holding your own hangout, I'm sure you've been invited to one. And probably heard the virtues of hangouts extolled!
Let's take a look at the many opportunities for increasing visibility, building relationships with your community, and demonstrating your expertise. 
[pinit]
What are some benefits of Google hangouts?
Hangouts build affinity with your community, so people can get to know you. Seeing you live helps build the "know, like, and trust" factor. People need to know you before deciding to work with you!
Hangouts increase your visibility and get you in front of more people. Tap the power of Google and YouTube – the top two search engines in the world – combining to help you get your message out!
Hangouts on Air save to your YouTube channel, where they rank in Google search more easily than blog posts. Make it easy for those interested in your niche to find you!
How can you use a Google Hangout for your business?
Weekly hangout to stay in touch with your list
Product reviews
Product demonstrations – your own, or affiliate products
One-on-one interview series
Panel interviews
Web shows
Consultations: group or private
Tutorials
Team meetings
Courses / info products
Need more guidance? My friend Stacey Myers (as seen in the videos – no relation!) has developed a Hangout Hints and How To course. The training is available "on demand." If you're interested, click here for more info. I'm an affiliate, friend, and fan of Stacey's teaching.
I predict Google hangouts will be the success story of 2014. I've observed that folks who have used them once, use them over and over again – so they must work!
Ever done a Google Hangout for your business? Tell us about it in the comments!