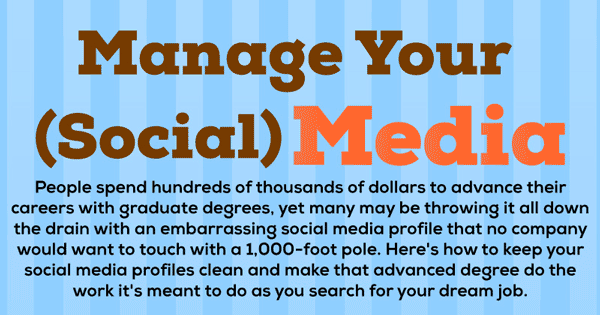 Online reputation management is critical – whether you're an online marketer, job hunter, or seeker of significant other!
Anyone considering associating with you is likely to check you out online.
Be sure your social media accounts are providing a good impression!
Here, 10 essential tips to manage your online reputation via social media, delivered on a handy infographic from BestMastersPrograms.
Scan your social timelines for anything objectionable.
Delete posts or photos that are questionable.
Set limits for privacy, sharing, and tagging.
Think twice before posting, especially in instances that have been problems before.
Delete dead accounts.
Reconsider outdated or inappropriate user names.
Go off-grid for a break.
Set Google alerts for mentions of you.
Don't be a comedian online – unless you really are one!
Read the infographic for full details! Then pin it for future reference.
Which of these 10 tips for online reputation management do you need to address?