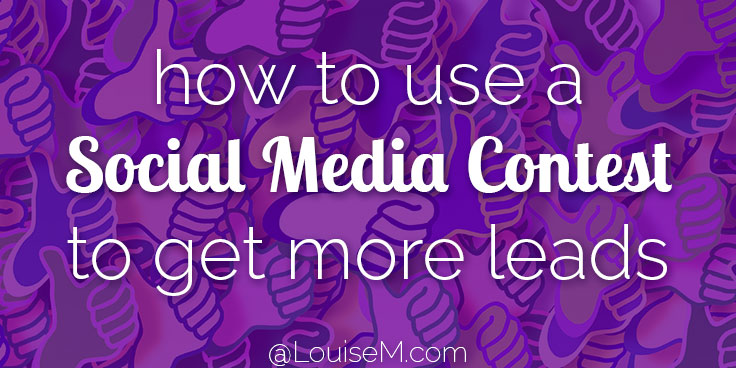 Thinking of running a social media contest?
One of the best ways to increase engagement on social media is to hold a contest.
Internet users love to get things for free and they are usually also eager to tell their friends about it by liking and sharing contests.
If you have been struggling to build a list of prospects or attract attention on social media, you might consider holding contests to help.
How Does a Social Media Contest Work?
Typically, the contest will ask entrants to perform some action in order to enter the contest. These are some examples:
Entrants might be asked to share or comment on a post, increasing engagement.
Or they may be asked to fill out an entry form, ad this provides a source of lead prospects.
Some contests ask users to submit photos, videos, or text entries,and these can be a great way to collect more user-generated content and get attention from the entrant's own social network.
Quizzes and surveys can provide you with a great way to attract attention and gather some marketing intelligence at the same time.
Social Media Contest Software For Small Businesses
Software companies offer some great apps that makes it easy to engage social media users and collect prospects. It might be helpful to consider a few top-rated suggestions for different kinds of contests.
Award Force – This app helps manage both entries and judging for online contests. It allows you to assign roles to judges, contest managers, and so on. Award Force
QZZR – This software allows you to create quiz or survey entries for your contest. It's specifically designed to keep the quizzes engaging and professional. QZZR
Contest Burner – If you choose to increase your engagement by simply asking for clicks or shares to enter the contest, this WordPress plugin might be the right choice for you. It awards points, and it also helps control unwanted spam. Contest Burner
Rafflecopter – This is a popular option that is all web based. You can use it to create sweepstakes that you can feature directly on your website and/or on your Facebook fan page. Rafflecopter
YourLeadEngine – This software maximizes your potential to gather leads by holding a contest. Every entry becomes a business prospect with this app. YourLeadEngine
Heyo – This Facebook app makes running contests a snap. Learn more on this blog post, or take a free trial.
(proud to be a Heyo affiliate!)
Success Tips For Your Social Media Contest
You may be able to gain a lot of attention with your contest. The important thing is to be sure you attract the right type of attention. Sure, the point of a social network contest is to give away some prizes. Lots of people like to compete for free stuff.
However, you have to ask yourself how giving away free things helps your marketing effort. If you want to collect targeted leads or engage more targeted prospects, you need to consider those goals when you decide what you should give away for free. Of course, marketers who have done well with these contests advise businesses to give away something that is relevant to their business.
This is because the entire point is to gather more targeted leads and to increase engagement. If you want to promote a hotel, you might give away a free night's stay, tickets to a nearby attraction, or a steep discount.
This tactic is likely to attract the kind of prospects that are going to be interested in your business. If you give away something unrelated to your business, your prospects won't be so targeted. If you do give away something from your own business, you might also ask the winners to offer reviews on social media sites. This can help your business get even more exposure.
When promoting your contest, using visuals to grab attention works great. Using stock images or pictures of the prize is best. Be sure that the font you use can be easily seen and that it is short and snappy to get the reader's attention. Don't make it too busy or the reader will get confused and just click off.
Winning With Small Business Social Media Contests
Contests are fairly easy to run, and can be very effective at building lead lists and increasing the number of fans and follows that a business has on social networking sites. They tend to work best when they are constructed with clear goals in mind and relevant prizes.
What do you think? Will you run a social media contest to boost your business?