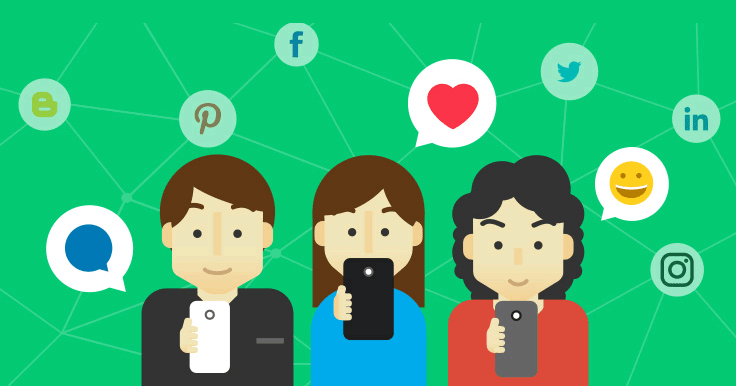 Wondering the latest social media facts?
The designers at Skilled.co have rounded up 115 of them and created a beautiful infographic. Perfect for pinning!
Its sections include:
A brief history of social media platforms
Social media platforms' registered users and market capitalization
Global social media penetration rate
Growth of social media on mobile
Percentage of users who log in daily
Gender breakdown by platform
Teen social media use
Percent of adults using social media platforms
How social media users get their news
Social media addiction
How social media influences purchasing
U.S. social media marketing spending predictions
Which social media provides the best ROI
How social media helps with recruiting
What's new in social media every minute / second
Best time to post on social media
Most popular brands and celebrities on social media
Read on after the graphic for insights into how social media affects our world view.

Presented by Skilled.co
Social Media and News Consumption
If there is any better example of how the rise of social media is changing the way society operates, it is the consumption of news. Traditionally, if you wanted to find out about what was going on in the world, you would rely on newspapers, the radio, and television news networks and broadcasts. These entities would gather the news and decide what stories were the most important (or best for ratings and sales).
Social media has given rise to 'citizen journalism' where ordinary people can break stories or get their voice heard, but perhaps more impactful is social media's role in becoming the aggregator of stories. The deciding factor of which stories are the most important.
According to data compiled for a new infographic for Skilled.co, 70% of social media users surveyed said they found their news via Reddit, 66% either exclusively or also used Facebook, 59% use Twitter, 31% Tumblr, and 23% Instagram. Furthermore, 68% of millennials prefer getting their news through Facebook, while 24% of high school students use Instagram (an image-centric app) as their primary news source.
None of these social networks are owned or controlled by news organizations, meaning the links to stories are determined by the community itself. Or more interestingly, by those who you choose to be friends with.
Much has been made of this in light of the fake news hysteria following the US Presidential campaign and the victory of Donald Trump. Are users at risk of false or inaccurate stories when professionals are not the ones disseminating them? And what about the echo chamber effects? If you are a right wing Republican, you are more likely to befriend right wing Republicans online and are therefore more likely to be exposed only to right wing news stories and sources.
To keep track of the social media facts, be sure to pin the infographic!