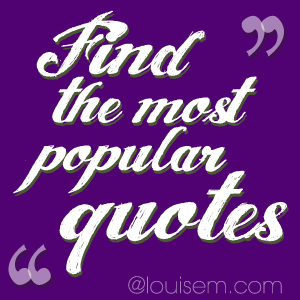 Looking for the most popular quotes?
Maybe you're overwhelmed by the task of choosing a quote from the BIG quote sites, which are home to thousands of quotes!
I vetted a number of sites that claim to have the most famous, best, or most popular quotes.
Check out the list I compiled – you're sure to find some great quotes on these sites!
List: Most Popular Quotes and Sayings
Each listing below links to the website, where you can check out their take on the best quotes. I made this list on List.ly, so you can vote for the sites you like (or don't), add sites to the list, and even embed it on your own blog!
I welcome your additions to the list, but it is moderated – and this list is only for sites that have an edited selection of the most popular quotes. Sites with a more extensive collection of quotes should be added to my list of the Best Quote Sites.
How Will You Use the Most Popular Quotes?
Are you planning to make quote pictures? Or are you looking for quotes to get more retweets on Twitter? Let me know in the comments how you plan to use the most popular quotes and sayings!